2023 Epcot Park Map
If you are planning on visiting Walt Disney World in Orlando Florida then you must make a trip to Epcot Park. Start familiarizing yourself with the park and the attractions by downloading the 2023 Epcot Park Map. From new attractions and dining experiences to the thrill of Epcot's 40th-anniversary celebration, there's much to discover within the gates of this extraordinary park. So, grab your virtual map, and let's dive into the wonders of Epcot!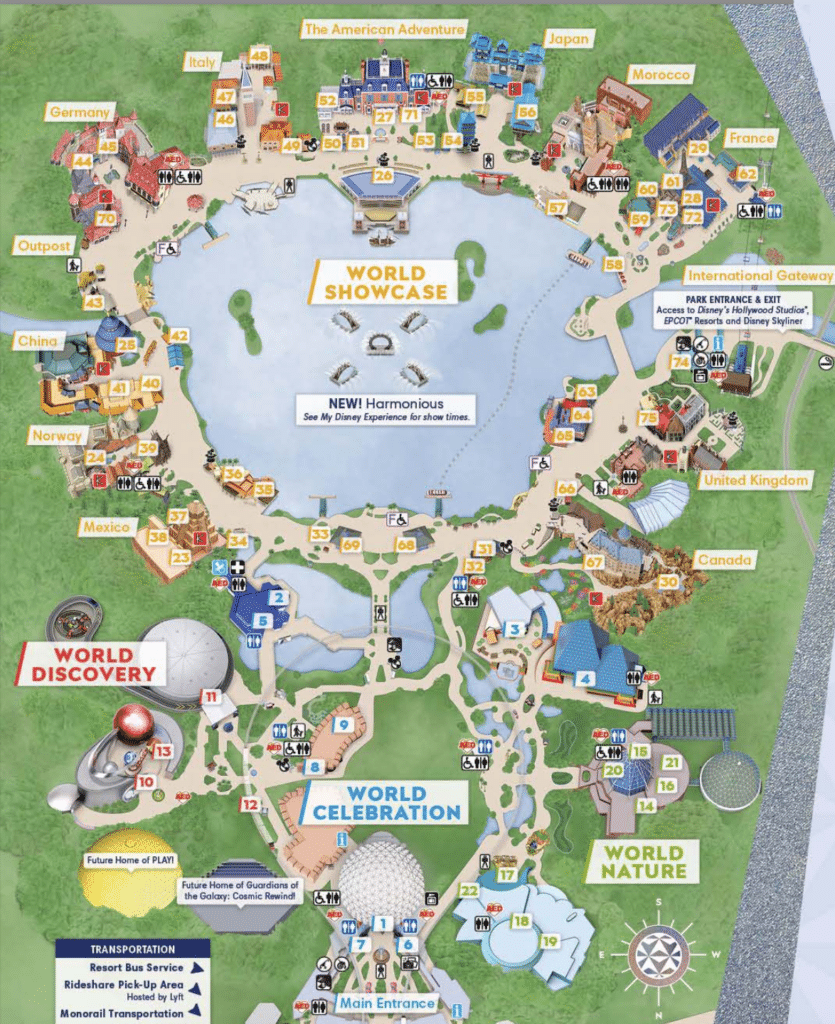 Unlock the Wonders of EPCOT with the Exclusive 2023 Park Map and Layout download!
As you explore the map, you'll notice that the overall design of Disney World ensures that everything is conveniently close. When you book a Disney Resort, you'll find that each resort is classified based on its proximity to a specific park. For instance, resorts located along the monorail are classified as Magic Kingdom resorts due to their close proximity to that park. If you're curious about the appearance and layout of each Disney park, the 2023 Disney World Park Maps are invaluable resources.
Epcot's 40th Anniversary: A Celebration of Wonder and Innovation
As we step into the year 2023, Epcot proudly celebrates its 40th anniversary, marking four decades of imagination, innovation, and cherished memories. This milestone calls for a grand celebration, with special events and surprises sprinkled throughout the park. From dazzling fireworks displays to unique character interactions, guests visiting Epcot in 2023 will have the opportunity to be part of this momentous occasion and create unforgettable experiences.
Epcot's Rides: A Journey of Thrills and Imagination
Epcot is renowned for its impressive lineup of rides that cater to all ages and interests. Whether you seek heart-pounding thrills or immersive storytelling, there's something for everyone. Let's explore some of the must-visit attractions in Epcot:
Test Track
Buckle up and prepare for an exhilarating ride as you design your virtual concept vehicle and put it through its paces on the ultimate test track. Experience the speed, agility, and power of your creation as you race through various terrains.
Soarin' Around the World
Embark on a breathtaking simulated hang-gliding adventure, soaring high above iconic landmarks and natural wonders from different corners of the globe. Immerse yourself in the sights, sounds, and even scents, as you witness the beauty of our world.
Frozen Ever After
Join Anna, Elsa, and their friends from the beloved film Frozen on a magical boat journey through the enchanting kingdom of Arendelle. Experience the captivating music, stunning visuals, and heartwarming story that have captured the hearts of millions.
Mission: SPACE
Brace yourself for an out-of-this-world adventure as you become an astronaut on a thrilling mission to Mars. Feel the g-forces, experience weightlessness, and navigate through the vastness of space in this immersive and exhilarating attraction.
Epcot's Culinary Delights: A Gastronomic Journey Around the World
Epcot is a haven for food enthusiasts, with a wide array of dining options that cater to every palate. From quick-service eateries to fine dining establishments, the park's restaurants offer a delightful fusion of flavors from around the world. Here are some notable dining experiences to savor in 2023:
Le Cellier Steakhouse
Indulge in a mouthwatering feast of prime steaks, savory poutine, and delectable desserts at this charming Canadian-inspired steakhouse. Immerse yourself in the cozy ambiance and enjoy a culinary journey that celebrates the flavors of the Great White North.
Teppan Edo
Immerse yourself in the art of Japanese cuisine as skilled chefs showcase their culinary prowess right at your table. Experience the sizzling sounds and enticing aromas of teppanyaki-style cooking while relishing perfectly grilled meats, fresh seafood, and flavorful vegetables.
Spice Road Table
Transport your taste buds to the vibrant flavors of the Mediterranean at this waterfront restaurant. Savor a variety of small plates, including succulent lamb sliders, crispy calamari, and savory Moroccan spiced chicken.
Exploring Epcot with the Help of the Map
To make the most of your Epcot adventure in 2023, be sure to utilize the park's map, which serves as an indispensable tool for navigating its various attractions, dining options, and entertainment offerings. The map provides a comprehensive overview of the park's layout, allowing you to plan your day efficiently and maximize your time exploring the wonders of Epcot.
The Magic of Epcot: The Reasons People Keep Coming Back
Year after year, Epcot continues to be a cherished destination for Disney enthusiasts around the world. Its unique blend of technological innovation, cultural immersion, and imaginative storytelling creates an enchanting experience that lingers in the hearts of visitors long after they leave. Whether it's the thrill of futuristic attractions, the joy of discovering new cuisines, or the wonder of celebrating milestones like Epcot's 40th anniversary, there's an undeniable magic that draws people back to this extraordinary theme park.