Busch Gardens Williamsburg Map and Brochure (1997 – 2023)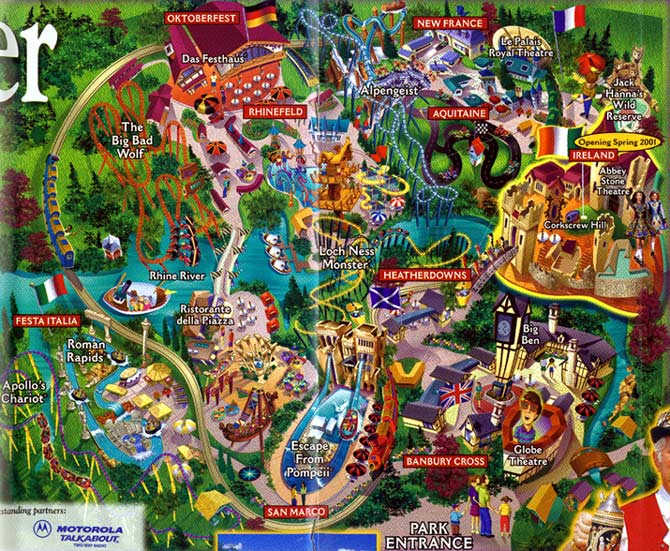 Location: Williamsburg, Virginia
Years Active: 1975 – Active
Busch Gardens Williamsburg (formerly known as Busch Gardens Europe and Busch Gardens: The Old Country) is a 422-acre amusement park located in James City County near Williamsburg, Virginia, United States.
Located approximately 60 miles northwest of Virginia Beach, the park was developed by Anheuser-Busch (A-B) and is owned by SeaWorld Parks & Entertainment. It opened on May 16, 1975, adjacent to Anheuser-Busch's brewery and near its other developments including the Kingsmill Resort complex.
The park is themed to a variety of European country themes and was originally named Busch Gardens: The Old Country.
In 1993, the park was renamed Busch Gardens Williamsburg, and it was briefly named Busch Gardens Europe from 2006–2008. In 2015, an estimated 2.78 million guests attended the park, ranking it twentieth in overall attendance among amusement parks in North America.
In addition to its landscaping and European themes, Busch Gardens is widely known for its roller coasters, including Griffon, Loch Ness Monster, Alpengeist, and Apollo's Chariot, the latter of which was ranked as the 4th best steel coaster in the annual Golden Ticket Awards publication from Amusement Today in 2012.
Busch Gardens Williamsburg Map 2023
Busch Gardens Howl O Scream Map 2023
Busch Gardens Williamsburg Map 2022
Busch Gardens Howl O Scream Map 2022
Busch Gardens Williamsburg Map 2021
Busch Gardens Christmas Town Map 2021
Busch Gardens Williamsburg Map 2020
Busch Gardens Christmas Town Map 2020
Busch Gardens Williamsburg Map 2019
Busch Gardens Howl O Scream Map 2019
Busch Gardens Williamsburg Map 2018
Busch Gardens Williamsburg Map 2003
Busch Gardens Williamsburg Map 2002
Busch Gardens Williamsburg Brochure 2002
Busch Gardens Williamsburg Map 2001
Busch Gardens Williamsburg Brochure 2001
Busch Gardens Williamsburg Brochure 1997
Busch Gardens Williamsburg Map 1997