Coney Island Map and Brochure (2005 – 2023)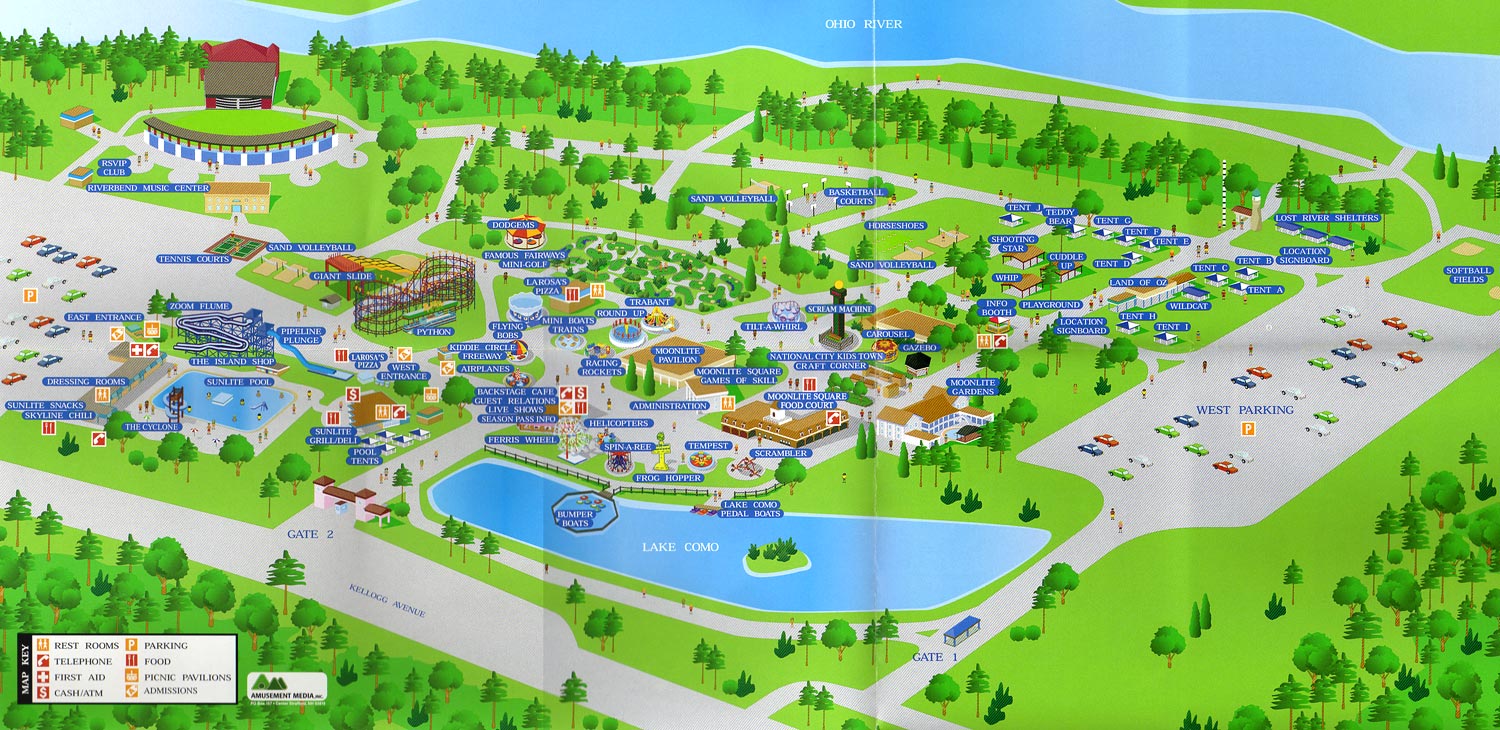 Location: Cincinnati, Ohio
Years Active: 1870 – Active
Coney Island is a small water park located on the banks of the Ohio River in Cincinnati, Ohio, approximately 10 miles east of the downtown area in Anderson Township. It no longer has the old-time carnival rides pictured in many review sites and promotional materials still in use. As of the 2021 season, about one-third of the deep end is occupied by an inflatable obstacle course not pictured on the park's website.
The park sits directly adjacent to Riverbend Music Center and Belterra Park. Beginning in 1870, the original owner called the area Parker's Grove, which was later renamed Ohio Grove, The Coney Island of the West after the Ohio Grove Corporation purchased the park in 1886. The name was shortened to Coney Island the following season. Growth over the years spawned dozens of rides and attractions which led to its popularity as an amusement destination.
Coney Island was sold to Taft Broadcasting in 1969 with intentions to move the park to a new, larger destination away from frequent flooding. The new park opened as Kings Island in 1972, although Coney Island's Sunlite Pool remained opened. Rides eventually returned, and additional investments and improvements were made to the Sunlite Pool area. These changes, along with the opening of the nearby Riverbend Music Center in 1984, allowed the park's attendance and profitability to recover. In 2019, Coney Island focused its operations exclusively on its water park amenities and removed other amusement rides.
Coney Island Map 2023
Coney Island Map 2022
Coney Island Map 2021
Coney Island Map 2020
Coney Island Map 2019
Coney Island Map 2005