Dollywood Review – Everything About Dollywood
I can't wait to share my Dollywood review with everyone! We had so much fun at this theme park! I have always been a fan of Dolly Parton and love thrill rides, so it was a great opportunity.
There was plenty for the entire family to do! I didn't have to hear my kids say they were bored and they were not glued to their phones. Instead, they were talking excitedly about the rides we had been on and those they still wanted to ride before the day was over!
Overview of Dollywood Theme Park
I want to express in my Dollywood review this is an amazing theme park! It is very clean with plenty of trash cans and clean bathrooms. There are rides for children and those who are adventurous.
We were impressed with the mix of things to see and do. There are more than 50 rides and other attractions featured. I strongly recommend you plan more than one day for all of it!
The food was amazing! We had several meals while we were there. My husband says this is his favorite part and not to leave it out of this Dollywood theme park review! We ate a large variety of food so everyone found something they wanted. The prices were much better than other large theme parks we have gone to over the years.
Throughout the theme park, there is live entertainment. It was fun to relax and watch a short show here and there. We loved the music and often found a place to listen to it when we were ready to get off our feet for a bit. This is a huge theme park and you won't be disappointed with it at all! It is worth the time and money!
There are 11 themed areas, and each one has plenty to offer. We found fun things to do in every single one of them! Using a Dollywood map for 2021 to navigate was essential! This way you can plan what you would like to see and do.
We started in one area, completed it, and then moved to another close by. It cut down on the walking back and forth!
As a parent, I want to point out in this Dollywood theme park review that it gets top ratings for overall safety.
They have a detailed inspection process for all of the rides. They also have extra training for ride operators to help reduce the risk of any problems or accidents. We all want to have fun when we go to a theme park, and these kinds of precautions really help lower parent's anxiety levels.
As an avid Dolly Parton fan, I loved the museum dedicated to her. It is called Chasing Rainbows and shows tribute to her career and her achievements. She is an amazing lady, and it was fascinating to learn so much about her. My children were in awe of the Eagle Mountain Sanctuary.
Here you will find non-releasable bald Eagles. None of them would survive in the wild, but they are thriving with the help of trained staff. We learned plenty about this majestic bird.
Dollywood Hours
We discovered Dollywood when we planned our trip to the Grand Canyon and the Great Smoky Mountain National Park. It is about an hour from Knoxville, Tennessee.
It isn't open all year though so make sure you are aware of this. We would have been disappointed to show up and discover it was closed. The theme park is open from the middle of March annually and closes the following January.
The hours can vary during various times of the year or special events. There are seasonal events held throughout the year at Dollywood. Check their website for the dates and the details. Such events can change the times of operation. In many instances, they are expanded so visitors can fully enjoy those extras.
Usually, the hours are from 10 am until 9 pm. To reduce your wait time, try to go in June or August. Overall attendance is less during those times of the year. If you only have one day to visit, spending less time in lines will maximize what you see and do! Visiting during the week is recommended over the weekends for the same reason.
Dollywood Ticket Prices
Ticket prices for Dollywood depend on what you buy and the ages of those in your group. You will get a discount if you buy tickets for two or more days versus a one day ticket.
We got a two-day ticket as it was only $20 more than going for one day. We were glad we did as we never would have gotten to see all of it or go on all the rides in one day. My kids were very excited to return the second day.
One Day Ticket Prices
Seniors over 62 – $69
10 and older – $79
Children ages 4 to 9 – $69
Military discount – 30% off regular price
We did the add-on for the water park, it was worth it! Since we didn't go during a peak time of year, we didn't upgrade our passes. If the lines are long when you go, consider paying a bit more to do so. This allows you to access special entrances on the most popular rides. This is also encouraged if you have only a single day to visit the theme park.
Look for discounts for the theme park before you go. There are various offers online and from retailers in the area. As luck would have it, we stopped to eat before going to the theme park at a fast-food restaurant. We were able to get $10 off per person! You can get a discount buying them in advance from the Dollywood website too.
Season passes are offered and the price depends on adding the water park to it or sticking with the theme park only. If we lived in the area we would buy the season passes. If you reside in the area or visit often, this may be the best deal for you on tickets.
Dollywood Rides
I could write an entire Dollywood theme park review just on the rides! We were impressed with the number of them and the variety. Our younger two children don't like thrill rides. They had a blast in the teacups and on the bumper cars. My husband spent the afternoon with them on rides of that nature.
I am a thrill ride junky, and so are my two teenagers. We had so much fun exploring the variety of roller coasters offered here! I let the kids each pick their favorite and then we road them again before we headed back to meet up with the rest of the family for some music and dinner. I had to close my eyes on some of the loops with the Tennessee Tornado rollercoaster ride!
The entire family loved the Smokey Mountain River Rampage. We were in a large inner tube with seats all around it. All of us got wet, and it helped to cool us off during the heat of the day. We were all laughing and smiling the entire ride!
Take a look at all the Dollywood maps!
Lightning Rod Dollywood Review
The Lightning Rod was the best roller coaster I have ever been on in my life! Be ready, as it goes 73 miles per hour! I didn't expect that for a wooden roller coaster ride! There were several times it looked like we were going to do one thing, and then there was a surprise drop in the mix!
Dollywood Zipline Review
The zipline at Dollywood is unbelievable! It is called SkyZip, and it is highly recommended. I was skeptical about it, but I love thrill rides. My two teenagers wanted to do it and encouraged me to join them. I was glad I did!
It took some time for us to hike up there so overall it was an hour and a half from when we started. The view was amazing and the harnesses used were both comfortable and safe. There are some great videos if the SkyZip online if you aren't sure if you want to try it or not.
The SkyZip is an extra $40 per person, it is not included with your theme park ticket.
Dollywood Splash Country Review
I honestly can't tell you if my husband or my kids had more fun at Dollywood Splash Country! This water park was a great place to cool off. We visited it during the afternoon on both of our days at the theme park.
The locker areas are clean and offer a convenient way to store your items and to change clothing. We enjoyed the wave pool, the lazy river on inter-tubes, and the water thrill rides!
Dollywood Food Review
My family loves Southern cooking, and found plenty of it here! We didn't know about the dinner theater options the first day. We did schedule one for dinner the second day, and it was wonderful! The meal was delicious and the show was fun and entertaining. The audience was into it and the energy in the room is hard to explain.
There are three dinner show options to pick from each day. I encourage you to learn about them to help you plan your visit. Try to include one of them each day you visit the theme park. There are more than 25 food vendors too, offering a variety of snacks and treats you can enjoy. We had to grab funnel cakes both days!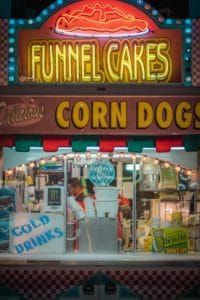 Conclusion – Dollywood Theme Park Review
I hope my Dollywood theme park review encourages you to visit! It is worth the price, and there is so much to see and do! I encourage you to show up early and plan to spend the entire day there. You don't want to be rushed or feel disappointed you ran out of time to do everything you wanted during your visit!
We had time to explore it all and to go back to a few rides a second time! Are you gonna plan a trip to Dollywood?