Holiday World & Splashin' Safari Map and Brochure (1986 – 2023)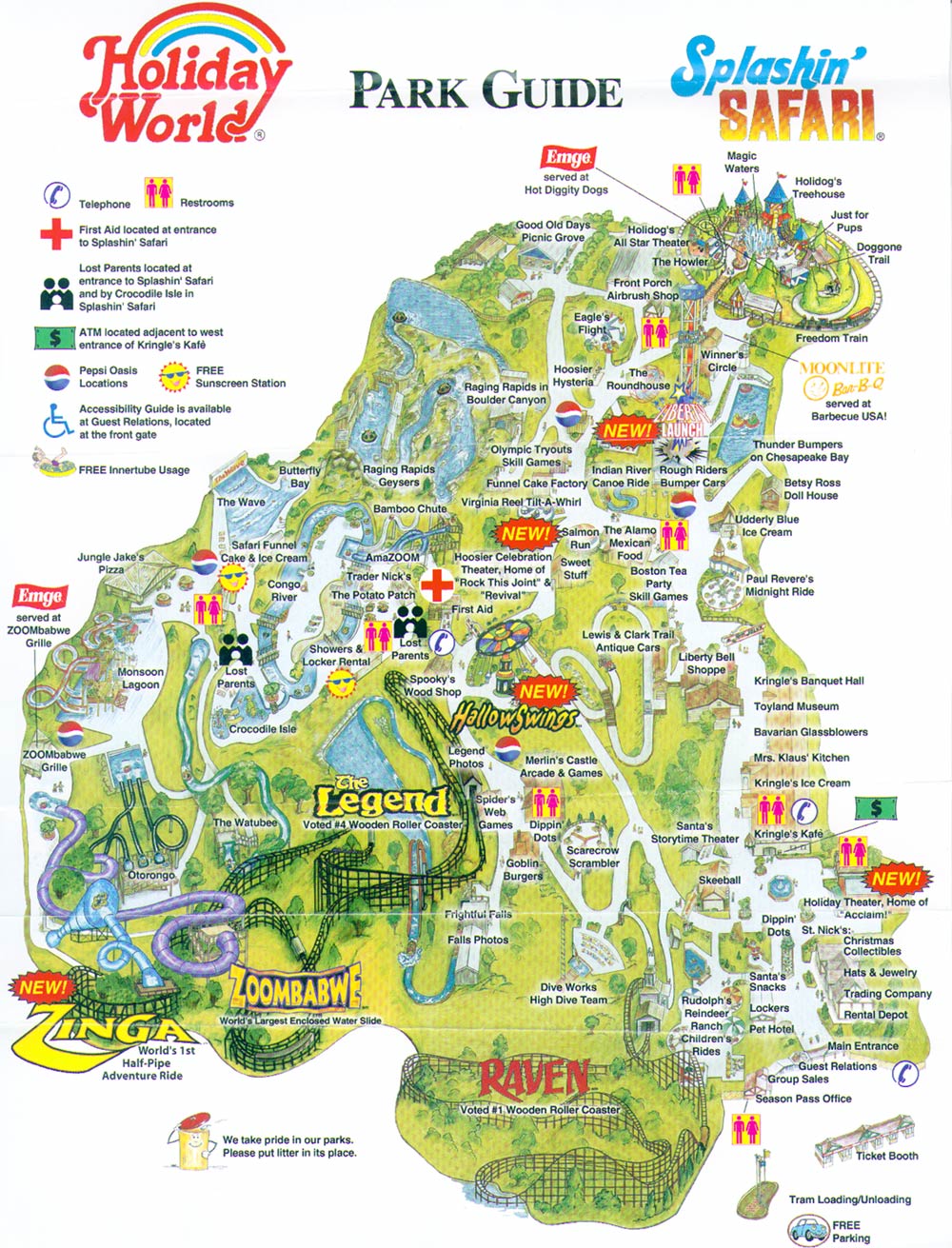 Location: Santa Claus, Indiana
Years Active: 1946 – Active
Holiday World & Splashin' Safari (known as Santa Claus Land prior to 1984) is a combination theme park and water park located near Interstate 64 and U.S. 231 in Santa Claus, Indiana, United States.
The theme park is divided into four sections celebrating:
Christmas
Halloween
Thanksgiving
Fourth of July
…with rides, live entertainment, games, and attractions.
Holiday World contains three wooden roller coasters: The Raven, The Legend, and The Voyage, as well as Thunderbird (a Bolliger & Mabillard launched Wing Coaster) and The Howler.
The safari-themed water park includes the world's two longest water coasters, Wildebeest and Guinness World Record Holder Mammoth. It also contains a launched dueling water coaster named Cheetah Chase, numerous family raft rides and water slides, two wave pools, a junior-sized wave pool, two children's-sized water slide areas, a lazy river, and one family "tipping bucket".
Holiday World & Splashin' Safari Map 2023
Holiday World & Splashin' Safari Map 2022
Holiday World & Splashin' Safari Happy Halloween Weekends Map 2022
Holiday World & Splashin' Safari Map 2021
Holiday World & Splashin' Safari Happy Halloween Weekends Map 2021
Holiday World & Splashin' Safari Map 2020
Holiday World & Splashin' Safari Map 2019
Holiday World & Splashin' Safari Happy Halloween Weekends Map 2018
Holiday World & Splashin' Safari Map 2018
Holiday World & Splashin' Safari Map 2017
Holiday World & Splashin' Safari Map 2016
Holiday World & Splashin' Safari Happy Halloween Weekends Map 2016
Holiday World & Splashin' Safari Map 2015
Holiday World & Splashin' Safari Map 2014
Holiday World & Splashin' Safari Map 2004
Holiday World & Splashin' Safari Map 2002
Holiday World & Splashin' Safari Brochure 2001
Holiday World & Splashin' Safari Brochure 2000
Holiday World & Splashin' Safari Brochure 1992
Holiday World & Splashin' Safari Brochure 1988
Holiday World & Splashin' Safari Brochure 1986