Legoland Florida Map and Brochure (2023)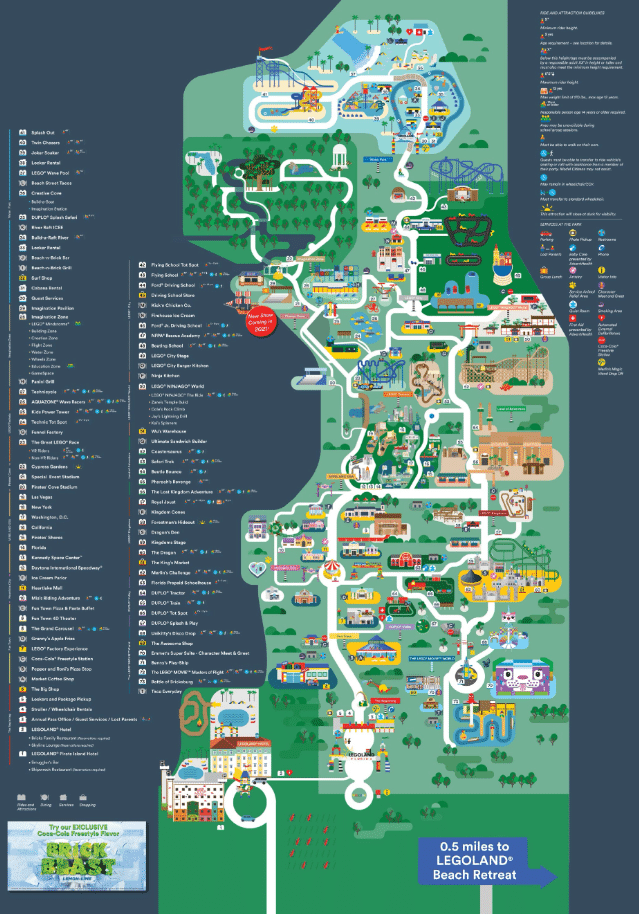 Location: Winter Haven, Florida
Years Active: 2011 – Active
Legoland Florida is located in Winter Haven, Florida, and features popular attractions, rides, and shows perfect for families and children aged 2 to 12.
The Legoland Florida map has many attractions for all to enjoy, including a lego factory tour, Florida landmarks' lego replicas, and a water park. It also has multiple shops, restaurants, and accommodations for guests.
Legoland Florida opened in 2011 and is part of six global Legoland parks, and you can enjoy lots of fun, including VIP experiences.
COVID-19 Regulations
Legoland rules and guidelines concerning COVID-19 ensure visitors stay safe when visiting the theme park. For instance, they recommend that visitors wear masks in indoor locations, sanitize their hands at various dispensing points, and avoid overcrowding.
The regulations align with government and local health authorities' requirements and guidance.
Legoland Florida Map: Rides and Attractions
Aquazone wave racers
The Aquazone wave racer is a slide allowing riders to slide down a double or single inner tube. The ride is limited to 48-inch+ tall riders who can swim and offers a thrilling experience as they slide, twist, and turn while racing other riders to the bottom. The ride features obstacles and water jets that add to the experience and is the most popular at the park.
Battle of Bricksburg
This popular interactive ride at the park is based on the Lego movie franchise. The ride combines elements of 4D effects like mist, water, and wind, plus a traditional dark ride to give visitors an immersive experience. Visitors get to board a vehicle taking them through the World of Bricksburg, full of various characters and locations from the film. They'll help Emmet, and his friends battle the Evil Lord Business and his minions.
Beetle Bounce
Bettle bounce is an exciting ride in Legoland Florida theme park. The ride is family-friendly and simulates a bouncy ride on a giant beetle's back. The ride features a series of gentle twists and bounces suitable for adults and children. It's the perfect ride for families looking to provide their young children with a soft but fun experience.
Benny's Playship
This ride is perfect for children looking to play and have fun. The ride is interactive and designed to provide a play area for young children to explore. It features a playship with climbing structures, slides, and interactive elements themed to the world of Lego. It allows children visiting the theme park to have an enjoyable and safe experience.
Botanical gardens
Legoland Florida's botanical gardens offer a beautiful horticultural masterpiece filled with exotic plants from all over the globe. Plants in the park include ten banana varieties, 30 palm varieties, ten kinds of camellias, 15 types of azaleas, and more. Legoland keeps the plants in pristine condition and offers the perfect experience for children and adults interested in botany.
New Peppa Pig Theme Park
The new Peppa Pig theme park features Pappa Pig and her friends and is perfect for children to explore and interact with their favorite cartoon characters. The theme park is a short distance from Legoland Florida resort and has lots of fun experiences with Peppa pig and other characters.
Seasonal Events at Legoland
Pirate Fest Weekends- Jan. 21 to Feb. 19 (Saturdays and Sundays)
Book this event and experience adventures with Captain Redbeard as he returns ashore from his adventures. Get recruited from the best of the best in the class of pirates with the ultimate mission of taking over Legoland theme park to bury his treasure. Join the fun pirate invasion and experience pirate-themed shoes, character meet and greets, Lego-building activities, and more.
Brick-or-Treat (Fall of 2023)
You can also enjoy Legoland's signature Halloween event in the fall of 2023. The event features various shows, including the monster party on select weekends. Experience Monsters taking over Legoland featuring live shows and entertainment, character meet-and-greets, a costume parade, limited-time attractions, etc. Admission is included with the day pass, annual pass, vacation pass, and hotel packages.
Family Fun
Florida's Wild Side Mini Golf
Florida's wild side mini golf offers a 9-hole mini golf course on the boardwalk beside the beautiful Lake Eloise. Depending on the weather, the golf course is open from 9 am to 9 pm, and you can register to play at the front desk.
Legoland Pirate Island Hotel
The Pirate Island hotel offers excellent accommodation for families with children looking for a nice place to stay in Legoland Florida Resort. The hotel offers free breakfast daily, daily lego treasures in an in-room treasure hunt, separate sleeping space, free creative workshops, etc. You can browse the theme park's ticket prices to discover great vacation packages for a fantastic experience at the Legoland beach retreat.
Legoland Florida: Book Today
There is no better way to plan your trip than with our Legoland Florida map. The map contains information on various attractions, events, rides, and roller coasters that are sure to keep adults and children of all ages engaged and happy. Legoland Florida is the perfect destination for families looking to unwind and experience lots of fun in Florida's fantastic climate. Which rides or events are you looking forward to?
Legoland Florida Map 2023