Six Flags AstroWorld Map and Brochure (1992 – 2000)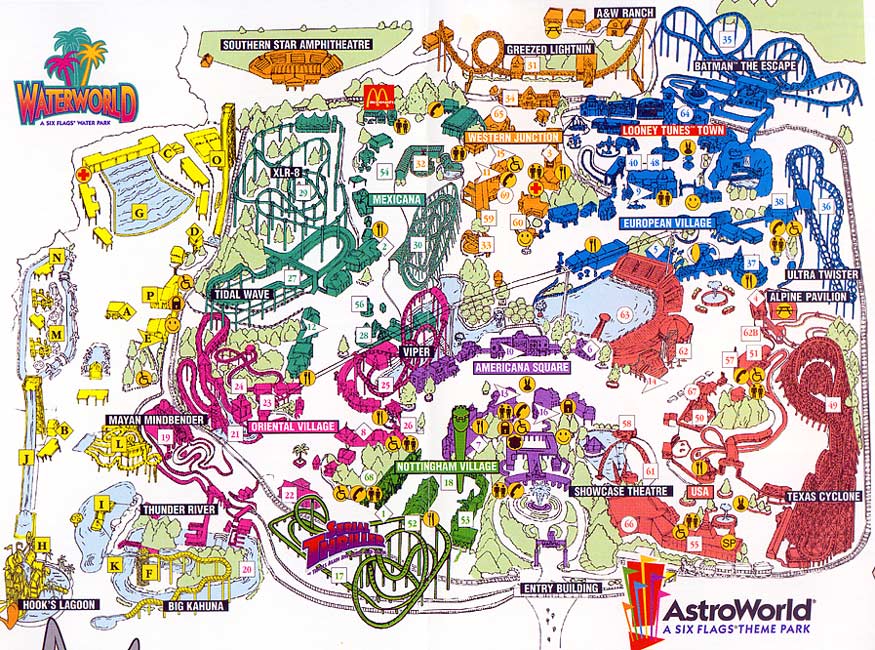 Location: Houston, Texas
Years Active: 1968 – 2005
Six Flags AstroWorld, also known simply as AstroWorld, was a seasonally operated amusement park in Houston, Texas. Owned and operated by Six Flags, the park was situated between Kirby Drive and Fannin Street, directly south of I-610.
The park opened on June 1, 1968, and was developed originally and constructed as part of the Astrodomain, the brainchild of local philanthropist and former Houston mayor Roy Hofheinz, who intended it to complement the Astrodome.
The Hofheinz family sold AstroWorld to Six Flags in 1978.
Notable rides featured at the park included the Texas Cyclone, a wooden roller coaster built in 1976 that was modeled after the well-known Coney Island Cyclone, and Thunder River, considered the world's first successful river rapids ride when it opened in 1980.
WaterWorld, an adjacent water park, was acquired and added to AstroWorld in 2002.
Following declining revenue, rising property value, and other issues facing Six Flags, the company closed AstroWorld permanently after its final day of operations on October 30, 2005, the final night of Fright Fest. Many rides were sold at auction or relocated to other Six Flags' properties, and demolition of the remaining structures was completed by mid-2006.
Six Flags AstroWorld Map 2000
Six Flags AstroWorld Brochure 2000
Six Flags AstroWorld Map 1999
Six Flags AstroWorld Brochure 1999
Six Flags AstroWorld Brochure 1994
Six Flags AstroWorld Brochure 1992
Six Flags AstroWorld Brochure 1989