Six Flags Magic Mountain Map and Brochure (1988 – 2023)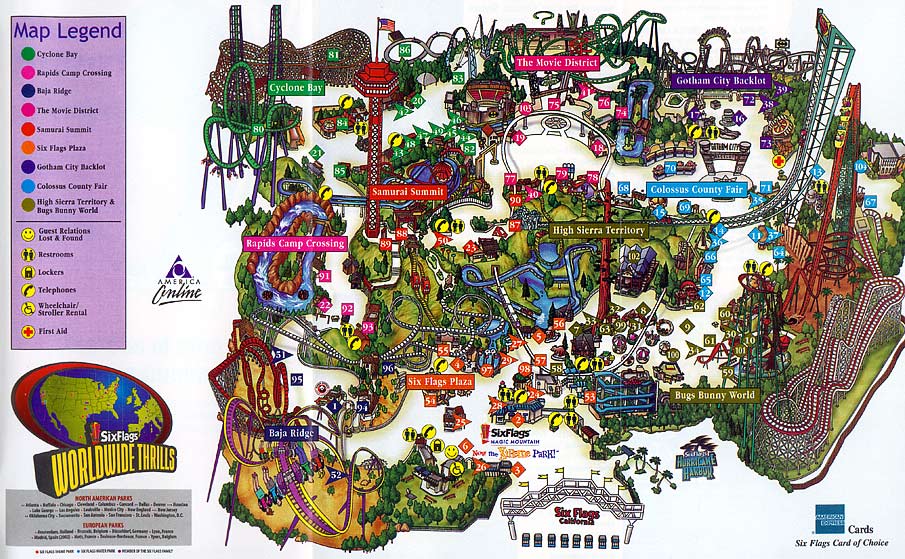 Location: Valencia, California
Years Active: 1971 – Active
Six Flags Magic Mountain, formerly known simply as Magic Mountain, is a 262-acre amusement park located in Valencia, California, 35 miles northwest of downtown Los Angeles.
It opened on May 29, 1971, as a development of the Newhall Land and Farming Company and Sea World Inc. In 1979, Six Flags purchased the park and added the name "Six Flags" to the park's name.
With 20 roller coasters, Six Flags Magic Mountain holds the world record for most roller coasters in an amusement park. It became the first amusement park to offer 20 roller coasters on July 16th, 2022. In 2017, the park had an estimated 3.3 million visitors, ranking it sixteenth in attendance in North America.
Six Flags Magic Mountain Map 2023
Six Flags Magic Mountain Map 2022
Six Flags Magic Mountain Map 2021
Six Flags Magic Mountain Map 2020
Six Flags Magic Mountain map 2016
Six Flags Magic Mountain Map 2015
Six Flags Magic Mountain Map 2014
Six Flags Magic Mountain Map 2008
Six Flags Magic Mountain Map 2006
Six Flags Magic Mountain Map 2005
Six Flags Magic Mountain Brochure 2005
Six Flags Magic Mountain Map 2003
Six Flags Magic Mountain Map 2001
Six Flags Magic Mountain Map 2000
Six Flags Magic Mountain Brochure 1997
Six Flags Magic Mountain Brochure 1990
Six Flags Magic Mountain Brochure 1988
Six Flags Magic Mountain Map 1986