Six Flags St. Louis Map and Brochure (1976 – 2023)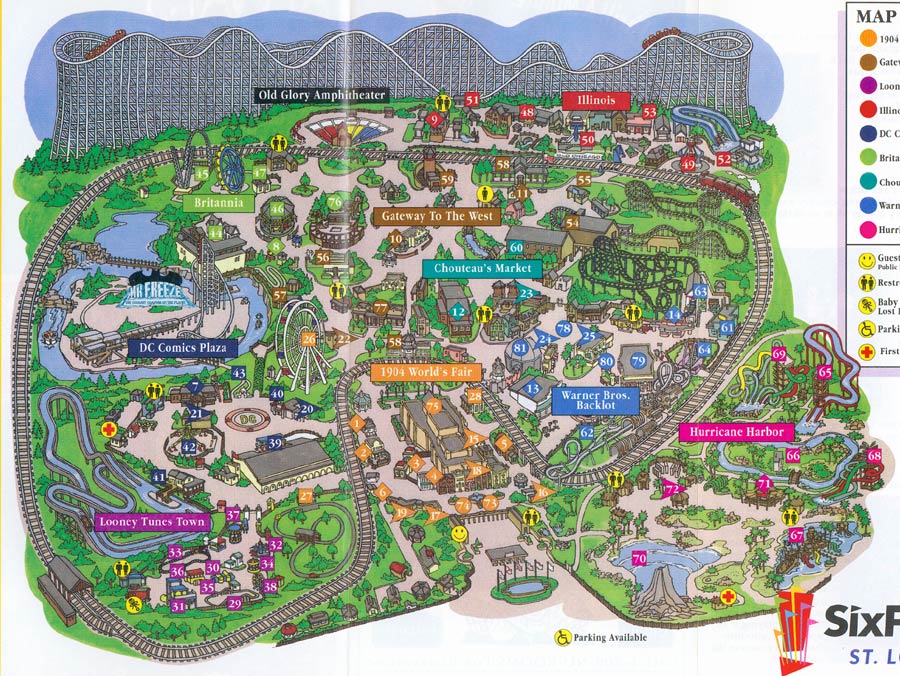 Location: Eureka, Missouri
Years Active: 1971 – Active
Six Flags St. Louis, originally known as Six Flags Over Mid-America, is an amusement park featuring characters and rides from many Warner Bros. films and tv shows such as, Looney Tunes, DC Comics, and formerly Scooby-Doo.
It is located in Eureka, Missouri, which is a suburb of St. Louis, Missouri. Owned and operated by Six Flags, the park opened on June 5, 1971 as the third of the company's three original theme parks. It is the only one of the original three Six Flags parks to be both owned and operated by Six Flags. (The other two, Six Flags Over Texas and Six Flags Over Georgia, are owned by limited partnerships and operated by Six Flags.)
The park was conceived by Six Flags founder Angus G. Wynne in the 1960s, although unlike the previous two Six Flags parks, it was designed by the Six Flags company itself rather than architect Randall Duell, who was preoccupied with designing AstroWorld at the time.
Its layout consists of eight themed areas, each of which contain numerous attractions, dining locations and live entertainment. The adjacent Hurricane Harbor water park is free with park admission.
Since its original opening in 1971, the park has undergone many changes, most notably of which are the replacement or renaming of all six of the park's original areas in the 1990s, as well as the addition of two new ones.
There are many celebrations and events held year round at the park. Some of the most popular are Holiday in the Park during the Christmas season that runs from November to early January and features Christmas decorations, music, New Years fireworks, and more. Fright Fest runs during the Halloween season (usually late September to November 1) and features many Halloween decorations and haunted houses. Coca-Cola's July 4th Fest takes place July 3–5 and features firework displays.
Six Flags St. Louis Map 2023
Six Flags St. Louis Map 2022
Six Flags St. Louis Map 2021
Six Flags St. Louis Map 2015
Six Flags St. Louis Brochure 2002
Six Flags St. Louis Map 1999
Six Flags St. Louis Map 1997
Six Flags St. Louis Brochure 1996
Six Flags St. Louis Map 1995
Six Flags St. Louis Brochure 1978
Six Flags St. Louis Brochure 1976