Alton Towers Map and Brochure (1996 – 2023)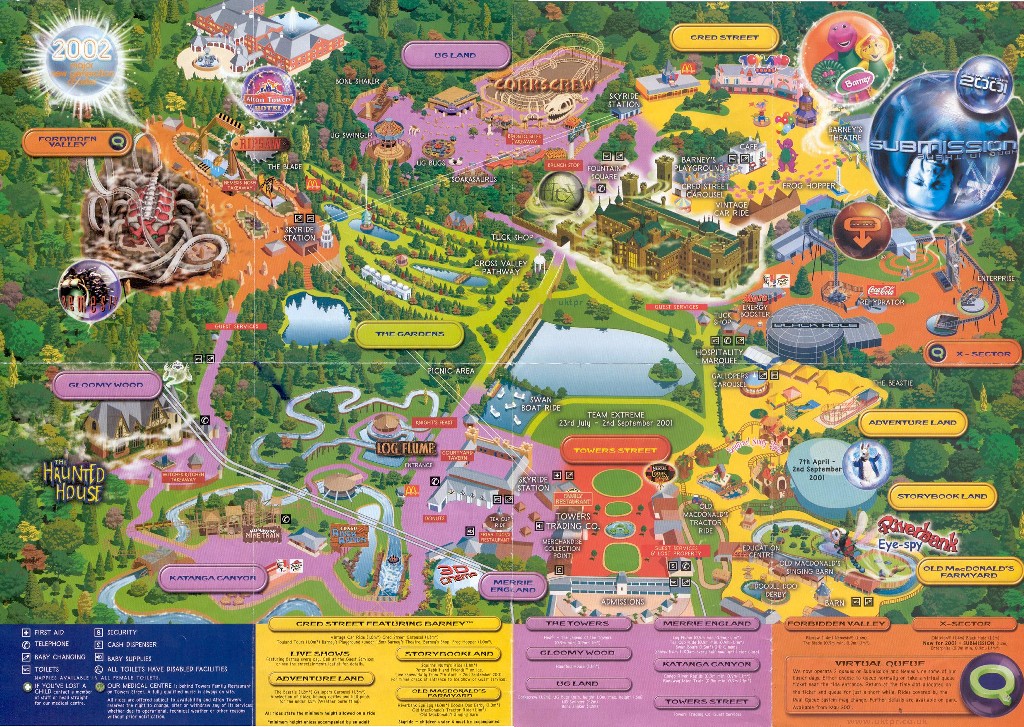 Location: Alton, England
Years Active: 1980 – Active
Alton Towers Resort (often referred to as Alton Towers) is a theme park and resort complex in Staffordshire, England, near the village of Alton. The park is operated by Merlin Entertainments Group and incorporates a theme park, water park, spa, mini golf and hotel complex.
Originally a private estate, Alton Towers grounds opened to the public in 1860 to raise funds. In the late 20th century, it was transformed into a theme park and opened a number of new rides from 1980 onwards.
In 2019, it was the second most visited theme park in the UK with 2,130,000 visitors which puts it after Legoland Windsor.
Alton Towers Theme Park Map 2023
The official 2023 guide to Alton Towers Resort, illustrating a plethora of attractions across its sprawling theme park. Key areas are thematically distinguished: "The Gardens" offers a serene landscape, "Katanga Canyon" promises adventure, and "CBeebies Land" delights with its family-oriented rides and shows. The map is dotted with symbols and labels for rides, dining options, and facilities, with special emphasis on new additions like "The Curse at Alton Manor" and "Gloomy Wood," inviting guests to explore the latest thrills.
The map's legend is thoughtfully organized, segmenting attractions into categories such as "Thrills," "Laughs & Frights," and "Young Fun & Imagination," catering to different age groups and interests. Icons for restaurants and amenities are clearly marked, providing a quick reference for visitors. With this detailed guide, guests can easily plan their visit to Alton Towers, ensuring a fun-filled day with minimal fuss and maximum enjoyment.
Alton Towers Water Park Map 2023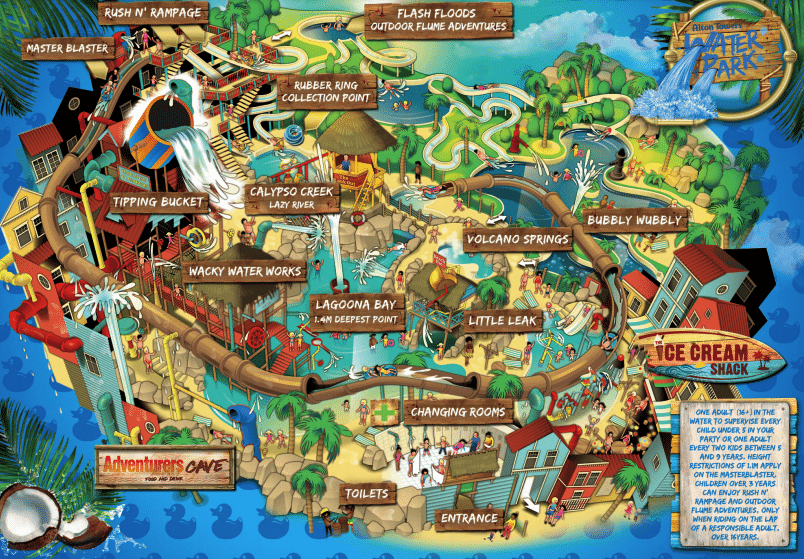 This is a detailed map of Alton Towers Waterpark. The map depicts a variety of water-based attractions, each with playful and descriptive names that suggest the experiences offered. The "Master Blaster" and "Rush N' Rampage" are likely high-energy water slides, while "Lagoona Bay" and "Little Leak" imply more relaxed, family-friendly areas. "Calypso Creek" is characterized as a lazy river, inviting guests to meander through its gentle currents.
Important amenities such as "Changing Rooms," "Toilets," and "Ice Cream Shack" are clearly marked for convenience. The map also features a "Rubber Ring Collection Point," suggesting a need for inner tubes at certain attractions. The design of the map is engaging, using a bright, cartoonish art style to depict elements like the "Tipping Bucket" and "Wacky Water Works," enhancing the fun and adventurous atmosphere of the park. Safety notices and height restrictions are also included, ensuring that guests are well informed for a safe and enjoyable visit.
Alton Towers Resort Map 2018
This is the map of Alton Towers Resort, capturing its wide array of offerings. Featured prominently are the resort's accommodations which include the whimsically-themed "CBeebies Land Hotel," the cozy "Enchanted Village," the luxurious "Alton Towers Hotel," and the splash-ready "Splash Landings Hotel." The resort also boasts a variety of leisure activities, such as the serene "Alton Towers Spa," the adventurous "Waterpark," and the playful "Extraordinary Golf." The graphic teems with the promise of fun and relaxation, designed to entice visitors of all ages with its cartoonish flair and vibrant portrayal of the resort's amenities and attractions.
Alton Towers Map 2001
The image is a map of Alton Towers from 2002, filled with colorful representations of the park's many zones and attractions. It features thrilling ride areas like "Forbidden Valley" with its iconic roller coasters, family-friendly "Cred Street," and the water rides of "Katanga Canyon." The map also includes "The Gardens" for a more tranquil experience, as well as practical amenities labeled throughout, such as first aid stations, restrooms, and dining options. It's a snapshot of the park's layout, offering guests a nostalgic look back at the attractions and theming of Alton Towers at the turn of the millennium.
Alton Towers Brochure 1996
The brochure from 1996 advertises the Alton Towers Hotel as "Britain's Most Magical Hotel," set to open in March of that year. It features whimsical imagery, including a hot air balloon and the grand hotel building, to evoke a sense of wonder. The promotion includes a chance to win a weekend break and encourages readers to ring a provided number to reserve a free brochure, with an early booking incentive. It states that those who call by a specified date will be entered into a draw to win one of five family weekends at the hotel, and notes that brochures will be sent out before the end of December.
Alton Towers Map 1986
The 1986 map of Alton Towers presents a nostalgic view of the park with distinct areas like the "Kiddies Kingdom," "Aqualand," and "Fantasy World," each offering a range of attractions tailored to different interests. "The Towers" area lies at the heart, surrounded by the lush "Gardens," hinting at the historical and natural allure of the park. Key facilities such as restaurants, toilets, and first aid are clearly marked, alongside the "Talbot Street" filled with shops and the "Festival Park" promising entertainment. The map, with its simple yet informative layout, captures the essence of Alton Towers during the mid-80s, offering a glimpse into the park's past attractions and the layout before the advent of many of its now-famous thrill rides.