Canada's Wonderland Map and Brochure (1986 – 2023)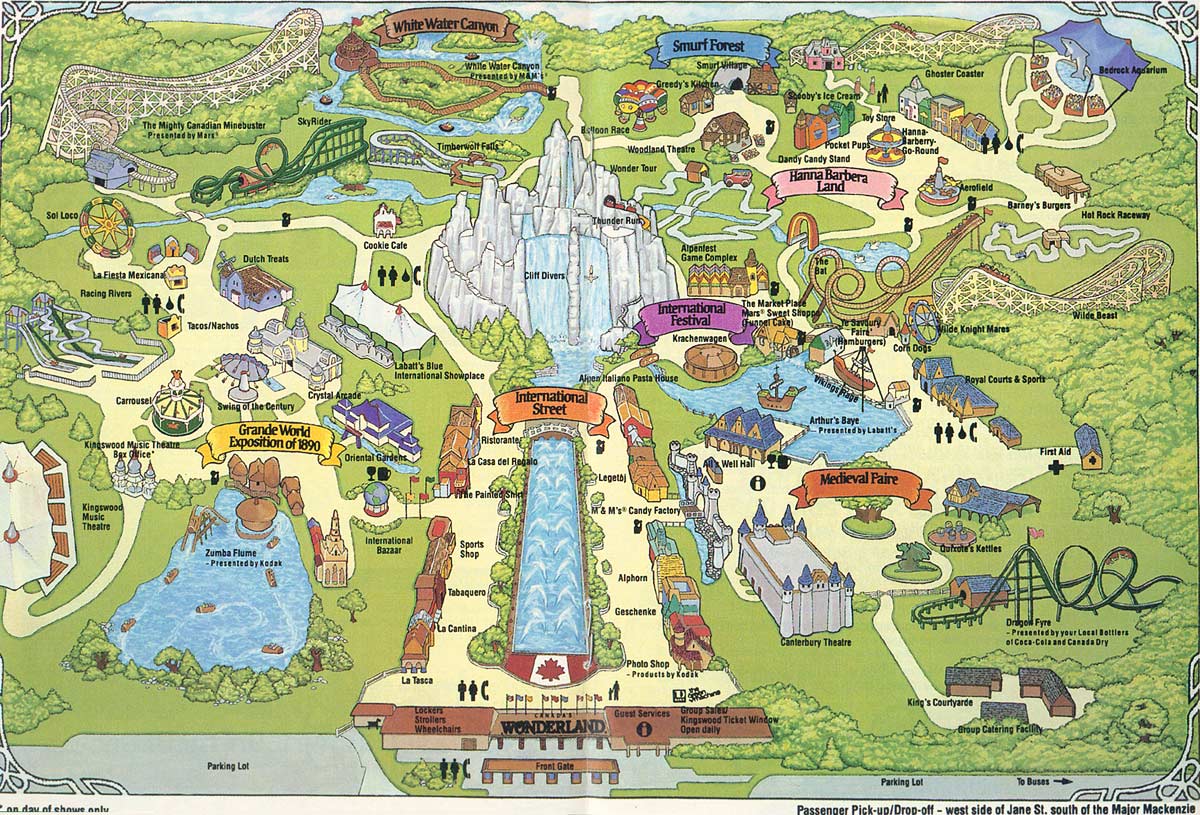 Location: Vaughan, Ontario
Years Active: 1981 – Active
Canada's Wonderland, situated in Vaughan, Ontario, is a sprawling theme park that has captured the hearts of visitors since its grand opening on May 23, 1981. Nestled in the scenic landscape of Canada, it celebrates the nation's rich cultural heritage and natural beauty. The park's theme is an ode to the Great White North, with attractions and entertainment inspired by the country's diverse provinces, making it a quintessentially Canadian experience.
With a diverse lineup of attractions, Canada's Wonderland caters to a wide-ranging audience. For thrill-seekers, "Leviathan," one of North America's tallest and fastest roller coasters, and the gravity-defying "Yukon Striker" provide heart-pounding excitement. Families can enjoy classic attractions like the tranquil "Swan Lake" paddleboat cruise or embark on whimsical journeys in the "Planet Snoopy" children's area, ensuring fun for all generations.
The park comes alive with a variety of festivals and events throughout the year, offering an extra layer of excitement and entertainment. From the dazzling "Starlight Spectacular" fireworks illuminating the night sky to the spine-tingling "Halloween Haunt," these celebrations provide a diverse range of entertainment suitable for all ages and tastes.
Canada's Wonderland has consistently drawn a substantial number of visitors annually, firmly establishing itself as one of Canada's premier theme park destinations. Recent statistics indicate an annual attendance of approximately 3 million guests, reflecting its enduring popularity among local residents and tourists alike.
In its commitment to growth and innovation, Canada's Wonderland has ambitious expansion plans on the horizon. These plans include the development of new themed areas and attractions, ensuring that the park continually captivates and engages visitors. Anticipated additions encompass thrilling rides, immersive experiences, and interactive zones, cementing Canada's Wonderland's position at the forefront of cutting-edge entertainment.
Canada's Wonderland stands as a testament to the enduring appeal of theme parks, offering a captivating blend of entertainment, cultural celebration, and natural beauty. With its scenic location, diverse attractions, and dedication to ongoing development, Canada's Wonderland remains a beloved destination where visitors create lasting memories while enjoying the thrills and magic of this extraordinary Canadian adventureland.
Canada's Wonderland Map 2023
Canada's Wonderland Map 2022
Canada's Wonderland Map 2021
Canada's Wonderland Brochure 2009
Canada's Wonderland Brochure 2008
Canada's Wonderland Brochure 2003
Canada's Wonderland Brochure 1990
Canada's Wonderland Map 1989
Canada's Wonderland Map 1986
Canada's Wonderland Brochure 1986