Dinosaur World Florida Map and Brochure (2010 – 2023)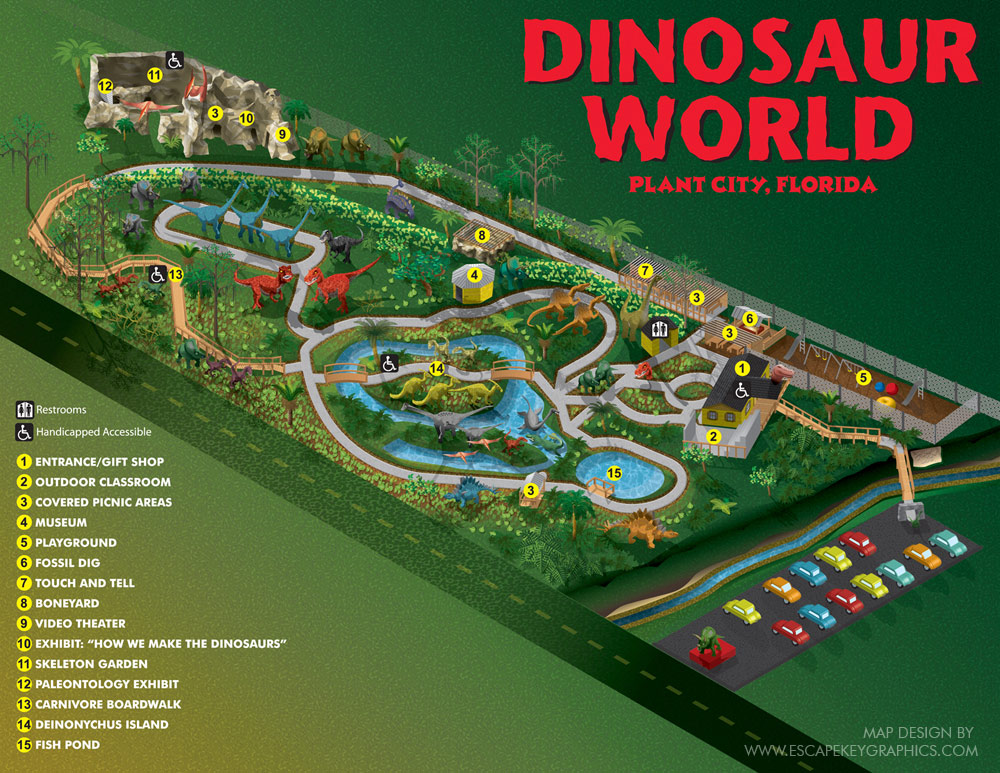 Location: Plant City, Florida
Years Active: 1998 – Active

Dinosaur World Florida, part of a trio of outdoor dinosaur theme parks in the United States, stands out as the inaugural location in Plant City. This park, which opened in November 1998, is the first of its kind, followed by its counterparts in Cave City, Kentucky, and Glen Rose, Texas. Like its sister locations, Dinosaur World Florida boasts over 150 life-size dinosaur sculptures, each a testament to the craftsmanship of Christer Svensson.
The park's design harmoniously blends these impressive sculptures with the natural landscape. The dinosaurs are strategically placed among native vegetation and water features, creating a simulation of a prehistoric, wild environment. This immersive experience is further enhanced by the presence of plant species dating back to the time of the dinosaurs, each labeled for educational purposes.
Family-friendly at its core, Dinosaur World Florida offers numerous activities tailored for children. These include playgrounds and picnic areas, as food services are not provided within the park, encouraging guests to enjoy picnics. A highlight for many young visitors is the "Fossil Dig," an interactive attraction where children can excavate real fossils from a sand table and take home their favorite three in a small plastic bag.
The dinosaur sculptures themselves are crafted with meticulous attention to detail. Made from carved polystyrene foam and covered with fiberglass and textured putty, they are painted to vividly represent the skin of these ancient creatures. Each dinosaur is constructed on-site, with about three new additions each year and ongoing refurbishments to existing statues.
Visitors explore the park on a scenic boardwalk, journeying past iconic dinosaur species like Stegosaurus, Brontosaurus, and Tyrannosaurus Rex. The path meanders through natural marshes adorned with cypress and gum trees, adding to the park's allure and authenticity. This Floridian location, with its pioneering spirit and rich educational offerings, serves as a captivating destination for dinosaur enthusiasts and families alike.
Dinosaur World Map 2023
Dinosaur World Map 2011
Dinosaur World Map 2010