Kentucky Kingdom Map and Brochure (1990 – 2023)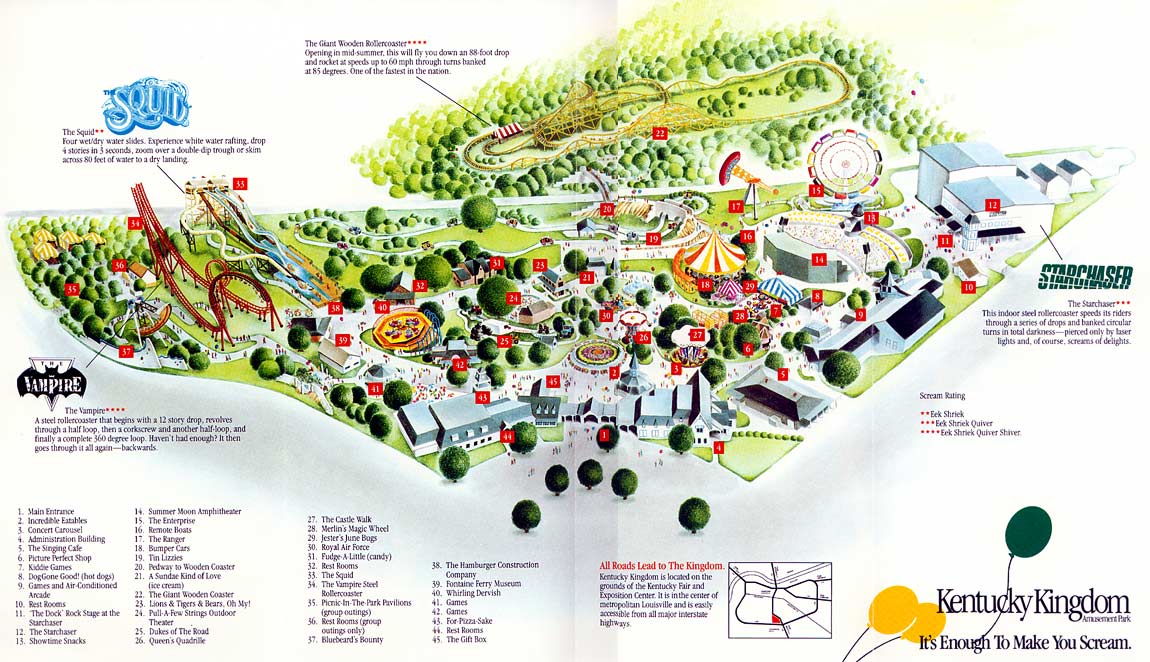 Location: Louisville, Kentucky
Years Active: 1987 – Active
Kentucky Kingdom, formerly known as Six Flags Kentucky Kingdom, is an amusement park in Louisville, Kentucky. The 67-acre park includes a collection of amusement rides and a water park named Hurricane Bay. Kentucky Kingdom is located at the intersection of Interstate 65 and Interstate 264, sharing a parking lot with the Kentucky Exposition Center.
In 1977, the Kentucky State Fair Board announced plans to build a theme park on the grounds of the Kentucky Fair and Exposition Center. The park's construction, overseen by Kentucky Entertainment Limited, began in 1986 and cost $12 million in total. Kentucky Kingdom opened to the public on May 23, 1987. The park went bankrupt after one season, and was reopened in 1990 by businessman Ed Hart.
Due to the park's success, Kentucky Kingdom was sold to Six Flags in 1998 who operated the park until 2009. Five years after Kentucky Kingdom closed, Ed Hart reopened the park on May 24, 2014. Seven years after Kentucky Kingdom reopened, the park's operating rights were sold to Herschend Family Entertainment. Kentucky Kingdom is owned by the Kentucky State Fair Board, and operated by Herschend Family Entertainment.
Kentucky Kingdom has six roller coasters: Kentucky Flyer, Lightning Run, Roller Skater, Storm Chaser, T3, and Thunder Run. The park has opened many first-of-its-kind roller coasters. T3 was the first Vekoma Suspended Looping Coaster in North America. Lightning Run is the only Chance Rides Hyper GT-X Coaster in the world. Storm Chaser was the first roller coaster in the United States to feature a barrel roll drop.
Kentucky Kingdom Map 2023
Kentucky Kingdom Map 2003
Kentucky Kingdom Map 1999
Kentucky Kingdom Map 1995
Kentucky Kingdom Brochure 1990
Kentucky Kingdom Map 1990