Knott's Berry Farm Map and Brochure (1988 – 2023)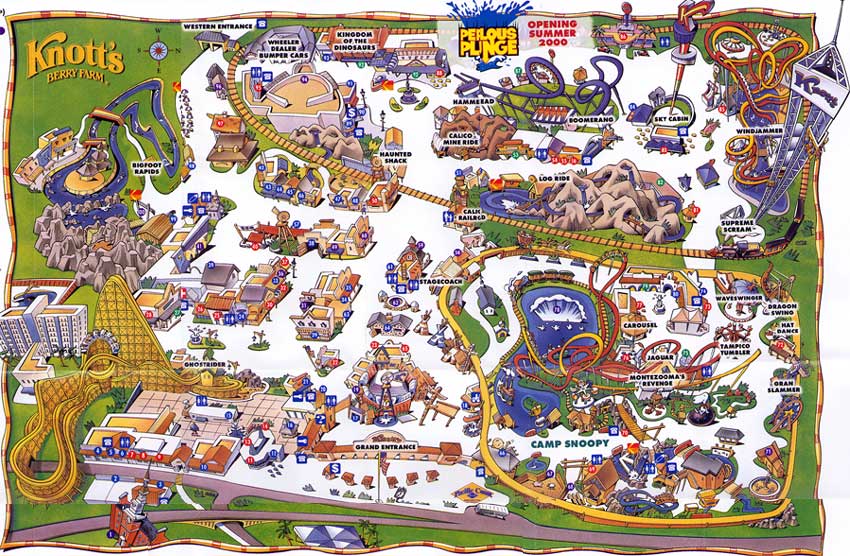 Location: Buena Park, California
Years Active: 1920 – Active
Knott's Berry Farm is a 57-acre theme park in Buena Park, California, owned and operated by Cedar Fair. In 2015, it was the twelfth-most-visited theme park in North America and averages approximately 4 million visitors per year. The park features 40 rides including roller coasters, family rides, dark rides, and water rides.
The theme park began in the 1920s as a roadside berry stand run by Walter Knott along State Route 39 in California. By the 1940s, a restaurant, several shops, and other attractions had been constructed on the property to entertain a growing number of visitors, including a replica ghost town.
The site continued its transformation into a modern amusement park over the next two decades, and an admission charge was added in 1968. In 1997, the park was sold to Cedar Fair for $300 million, just two years after the Knott's food business was acquired by ConAgra, Inc. in 1995.
Knott's Berry Farm Map 2023
Knott's Berry Farm Map 2022
Knott's Berry Farm Map 2021
Knott's Berry Farm Brochure 2010
Knott's Soak City Water Park Brochure 2010
Knott's Berry Farm Map 2009
Knott's Berry Farm Brochure 2006
Knott's Berry Farm Brochure 2002
Knott's Berry Farm Map 2000
Knott's Berry Farm Brochure 1988