Six Flags Fiesta Texas Map and Brochure (1996 – 2023)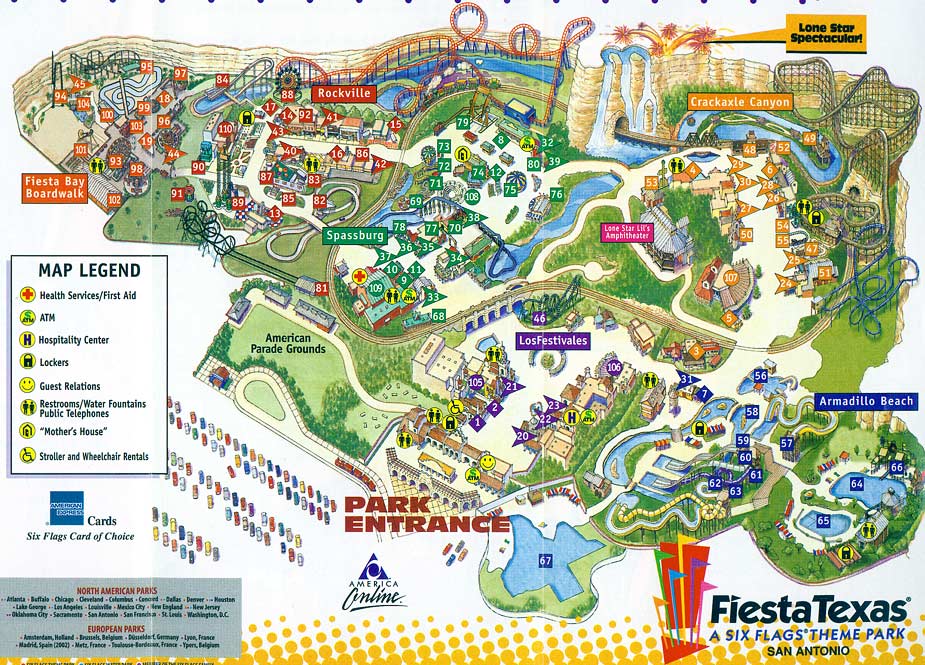 Location: San Antonio, Texas
Years Active: 1992 – Active
Six Flags Fiesta Texas, formerly known simply as Fiesta Texas, is a theme park located in Northwest San Antonio. It opened on March 14, 1992, in the La Cantera master-planned development and district as the first business in that development.
Spanning 200 acres the park was originally built to become a destination musical show park with its focus on the musical culture of the state of Texas. The park was purchased by Time Warner in 1995, and branded as a Six Flags park for the 1996 season.
The park's Landmark is the Scream drop tower ride, which stands 205 feet tall and can be seen from all around the park as well as outside the property.
The vibrant colors of the ride along with the Fiesta Texas signage make it visible to guests approaching from the intersection of Loop 1604 and Interstate 10. A good portion of the park is hidden within the quarry, however, several other attractions, including portions of most of the park's roller coasters, are visible from outside the park.
Six Flags Fiesta Texas Map 2023
Six Flags Fiesta Texas Map 2022
Six Flags Fiesta Texas Map 2021
Six Flags Fiesta Texas Map 2020
Six Flags Fiesta Texas Map 2016
Six Flags Fiesta Texas Map 2015
Six Flags Fiesta Texas Brochure 2008
Six Flags Fiesta Texas Map 2004
Six Flags Fiesta Texas Map 2001
Six Flags Fiesta Texas Map 2000
Six Flags Fiesta Texas Brochure 1999
Six Flags Fiesta Texas Brochure 1996