Six Flags Great Adventure Map and Brochure (1974 – 2023)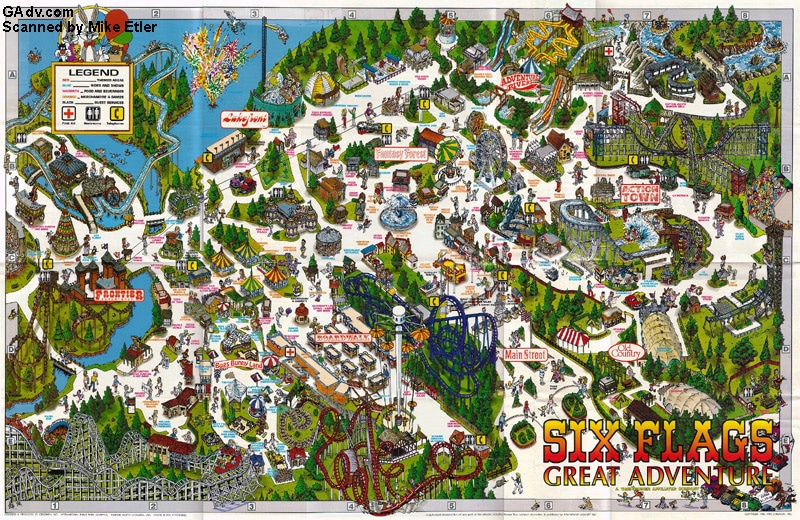 Location: Jackson, New Jersey
Years Active: 1974 – Active
Six Flags Great Adventure is an amusement park located in Jackson, New Jersey. Owned and operated by Six Flags, the park complex is situated between New York City and Philadelphia and includes a water park named Hurricane Harbor.
It first opened to the public as Great Adventure in 1974 under the direction of restaurateur Warner LeRoy. Six Flags acquired the park in 1977.
In 2012, Six Flags combined its 160-acre Great Adventure with its 350-acre Wild Safari animal park to form Six Flags Great Adventure & Safari park. At 510 acres, it is the second-largest theme park in the world, following Disney's Animal Kingdom.
Six Flags Holiday in The Park Map 2023
Six Flags Great Adventure Map 2023
Six Flags Great Adventure Map 2022
Six Flags Great Adventure Map 2021
Six Flags Great Adventure Map 2018
Six Flags Great Adventure Map 2016
Six Flags Great Adventure Map 2015
Six Flags Great Adventure Map 2007
Six Flags Great Adventure Map 2004
Six Flags Great Adventure Brochure 2004
Six Flags Great Adventure Map 2003
Six Flags Great Adventure Map 2002
Six Flags Great Adventure Brochure 2002
Six Flags Great Adventure Map 2001
Six Flags Great Adventure Map 1999
Six Flags Great Adventure Map 1998
Six Flags Great Adventure Map 1997
Six Flags Great Adventure Map 1996
Six Flags Great Adventure Map 1992
Six Flags Great Adventure Brochure 1992
Six Flags Great Adventure Map 1987
Six Flags Great Adventure Brochure 1982
Six Flags Great Adventure Map 1980
Six Flags Great Adventure Brochure 1980
Six Flags Great Adventure Brochure 1979
Six Flags Great Adventure Brochure 1978
Six Flags Great Adventure Brochure 1977
Six Flags Great Adventure Map 1977
Six Flags Great Adventure Map 1975
Six Flags Great Adventure Brochure 1975
Six Flags Great Adventure Map 1974
Six Flags Great Adventure Brochure 1974