Six Flags New Orleans Map and Brochure (2002 – 2005)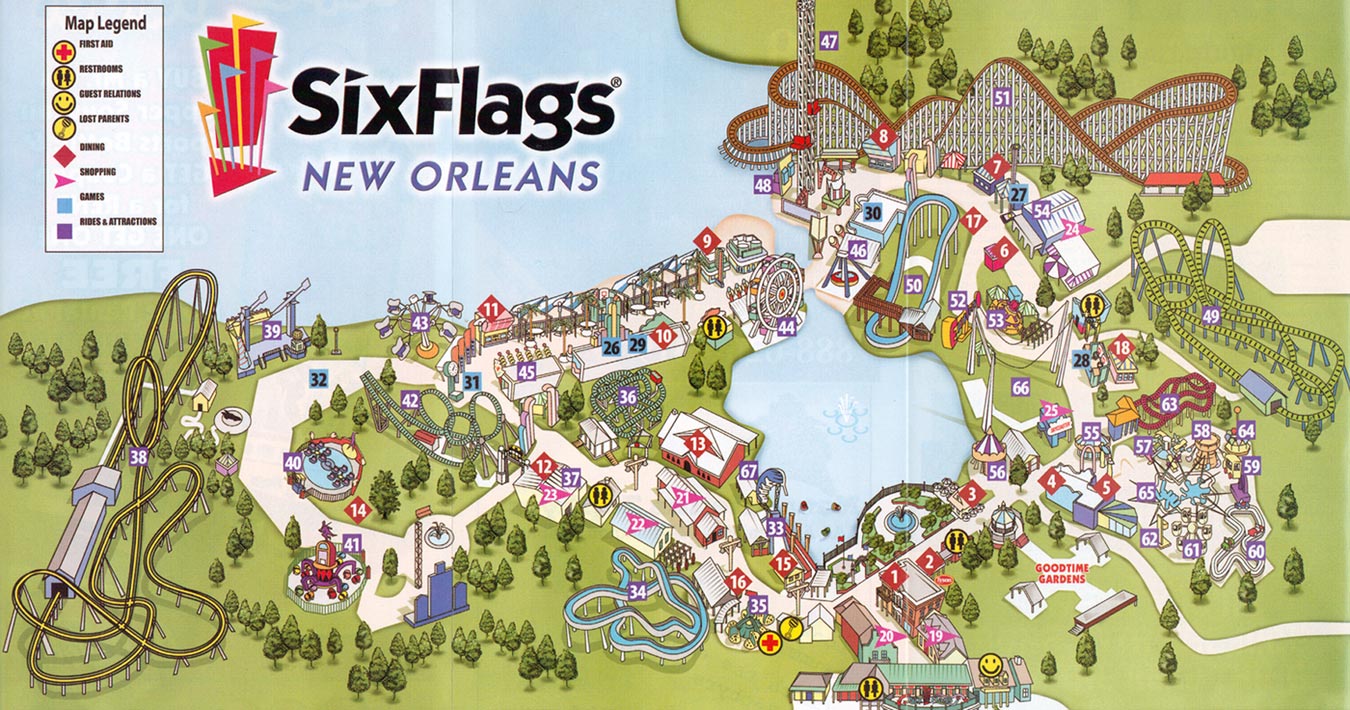 Location: New Orleans, Louisiana
Years Active: 2000 – 2005
Six Flags New Orleans is an abandoned theme park located near the intersection of Interstate 10 and Interstate 510 in New Orleans. It first opened as Jazzland in 2000, and a leasing agreement was established with Six Flags in 2002 following the previous operator's bankruptcy proceedings.
Six Flags invested $20 million in upgrades, and the park reopened as Six Flags New Orleans in 2003. It was closed eight days prior to Hurricane Katrina making landfall on August 29, 2005, and because of serious damage from flooding, the park never reopened and was left abandoned.
Six Flags salvaged several rides and relocated them to other parks. The Industrial Development Board (IDB) of New Orleans owns the property and oversees redevelopment plans.
Following several failed proposals to redevelop the site, it remains abandoned and in poor condition. Videos and photos of the site have emerged over the years from thrill-seekers and YouTubers. As a result, city officials became more diligent in securing the park and banning tourists, tasking the New Orleans Police Department with patrolling the abandoned site and arresting offenders.
An option to demolish and clear the land was explored in 2019 following complaints from local residents, estimated to cost the city $1.3 million. In the meantime, the city continues to generate revenue from the property by occasionally leasing the park to various production companies as a filming location.
Six Flags New Orleans Map 2005
Six Flags New Orleans Brochure 2005
Six Flags New Orleans Map 2004
Six Flags New Orleans Brochure 2004
Six Flags New Orleans Map 2002